Ismael Salvador
, DMD, MS
Dr. Salvador was born in New York City and moved to Atlanta, GA shortly after where he has called it home ever since. He is a product of a great public school education system attending Garden Hills Elementary, Sutton Middle School, and North Atlanta High School graduating in 1997 and attending Georgia State University we he earned his Bachelors of Science in 2001 and his Masters of Science in 2005.
He attended Medical College of Georgia in Augusta, Georgia earning his Doctor of Dental Medicine in 2011. After graduating dental school he became a Commissioned Officer in the United States Navy where he served four years of active duty touring in Great Lakes, Illinois and Norfolk, Virginia.
In 2009 he married his wife a long time close friend from college and together they have two energetic boys and one of the way. In his spare time he enjoys spending quality time with his family and friends.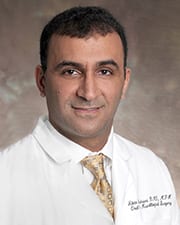 Abtin Shahriari
, DMD, MPH – Oral Surgeon
Dr. Shahriari completed his undergraduate training at Emory University with a BS in biology. After receiving his Masters in Public Health from Emory University in Epidemiology and International Health, Dr. Shahriari worked for the CDC for three years. He also served as a consultant to the World Health Organization for eradication of the polio virus in Bihar, India. He received his DMD from the University of Pennsylvania with multiple awards for his research and volunteer work in Songea, Tanzania. He received his specialty certification in oral and maxillofacial surgery from Emory University.
As a result of his extensive research and academic interests, Dr. Shahriari has presented multiple articles at national and international meetings. He is actively engaged in research projects involving different aspects of maxillofacial surgery. He speaks three languages (English, Spanish and Persian) and believes that the most important and rewarding part of his work is the care of his patients. His philosophy is to approach treatment through the perspective of the patient, emphasizing that good communication is essential for exceptional care and a trusting, long-lasting relationship.
Outside of his professional life, Dr. Shahriari enjoys traveling, swimming and losing ping pong matches to Dr. Toub. Most importantly, Dr. Shahriari enjoys spending time with his family.
We look forward to getting to know you and your family!